Ahh....hump day! We almost always go out to eat on Wednesday, Tim generally doesn't work late, and I get a pedicure. Tonight I was in the mood for LATIN! So we headed over to Bogota Latin Bistro in Park Slope. We sat in the garden out back, and it was very charming, there were cute tray style tables and colorful umbrellas. There was also a beautiful mural on the wall behind me that reminded me of the Mexican graffiti art that I have studied.
I know, he's hot.
Pretty Colors...
For an appetizer, Tim ordered guacamole and chips, though I am not a fan of fried foods I decided to try them. Bad idea the chips were oh so stale. So, we sent them back. 15 minutes later, the second batch arrived, the blue corn chips you could tell were fresh and great with the creamy guacamole, but the yellow corn chips were just as stale. Grr. The guacamole was very good though, not too much cilantro or lime, fresh chopped tomato and onion. I would definitely like some on some delicious whole grain tortillas.
from this angle, it kind of reminds me of alien brain.
I ordered the vegetarian plate which was rice and black beans plus your choice of 3 other side dishes. Normally vegetarian options like these kinda tick me off, but they had A LOT of sides to choose from! I chose steamed yucca, grilled chayote, and a mixed greens salad. The chayote was my favorite part, the smokiness from the grill went perfectly with it's slightly sweet and tangy taste with it's apple like texture. The steamed yucca had a great texture to it, which is hard to accomplish when you are steaming something, it was like it had been gently bathed rather than steamed, and had that great "starchier than a potato, but still similar" taste. The salad with lime vinaigrette was good and what you would expect of a salad only you know, more citrusy. The rice and beans were good and I particularly liked the fact that you could tell that they salted the rice cooking water.
Yucca..not at all yucky!
Tim ordered arroz con pollo, which came with plantains, black beans and latin slaw. I tried the plantains they were delicious! Just sweet enough, with enough caramelization to make you go "must have more, need more burned glucose" Tim very much enjoyed his chicken and rice which came with a sort of, I guess you could call it Colombian sofrito of sorts for dipping. He didn't even salt the crap out of it, which for him, is a feat. Seeing as how he didn't come up for air while eating, he must have loved it.
Pile of stuff.
Will I go back again? Definitely. I SOO want to try brunch. Any takers?
Healthier Snacks!
Today I am going to review two new healthier snacks, Robert's American Gourmet Cocoa Booty and Lesser Evil's SinNamon Popcorn.
First Cocoa Booty, it's like light and fluffy hulless popcorn with a delicious chocolatey coating. With only 120 calories per serving, and three grams of fiber, it won't break your diet.
On to SinNamon Popcorn, this is so good! Like caramel corn only BETTER! MOUTHGASM!!! And again only 120 calories!!! Just a great kiss of cinnamon on every kernel. The only bad things I can see about these two snacks is STICKING to the portion size. Darn this is good.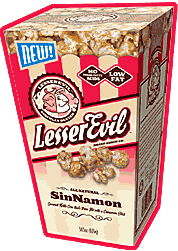 You really need to try this stuff. It's bound to be my new guilty pleasure addiction.